<!iframe width="245" height="138" src="https://www.youtube.com/embed/0Bm-POIhvg0" frameborder="0" allow="autoplay; encrypted-media" allowfullscreen> <!iframe width="245" height="138" src="https://www.youtube.com/embed/Jl_pZA_qS6o" frameborder="0" allow="autoplay; encrypted-media" allowfullscreen> <!iframe width="245" height="138" src="https://www.youtube.com/embed/H3j6T-zUdSE" frameborder="2" allow="autoplay; encrypted-media" allowfullscreen> <!a href="http://www.gc50000.com/" target="_blank"> <!img height="150" src="images/gold coast.jpg" style="margin: 12px 6px; border-style: solid; border-width: 2px;" width="245" /> <!iframe src="https://www.youtube.com/embed/videoseries?list=PLWqBrVQt68zJdwAIWYwd_mnKR8MQhPQCO" title="YouTube video player" frameborder="0" allow="accelerometer; autoplay; clipboard-write; encrypted-media; gyroscope; picture-in-picture" allowfullscreen style="width: 250px; height: 204px">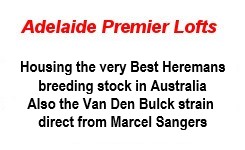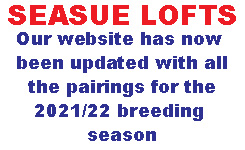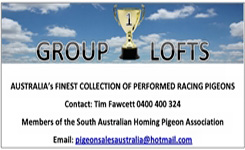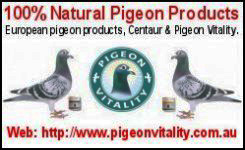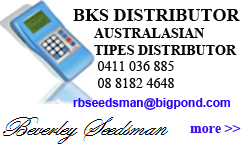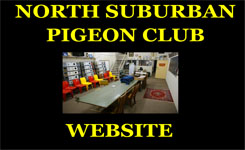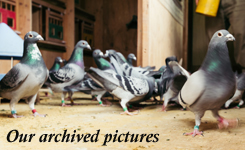 SA PRIVATE
PIGEON SALES
AUCTION of pigeon items
EXCITING NEWS for SAHPA MEMBERS! Two-day Pigeon Convention
November 26 and 27, 2022. Everyone welcome. Please check the CONVENTION tab or the QUICK LINK (Coming Events) at top for continuous updates. Contacts: Greg Hamilton 0419 598 400. Grant Paterson 0400 022 853. Gavin Harris 0418 853 111. John Van Beers and John Share will be speaking as part of "Winning Ways" guest speaker panel.
MAP of MARLA arrivals >>>>

COMPETITORS PLEASE NOTE: The next Marree and Coober Pedy are our last two ring races! RING RACE NEXT YEAR will be on again. Tom Tirrell is taking orders. Pay to account 065 102 1044 5657. $25 for 2. Clearly ref order with your mobile number. There are three average velocity prizes - here is the latest average velocity data for races >>>


NEW - Search this
file for ALL RESULTS for 2020. Simply use "control f" to get the search box and then enter what you want to search for. Search for your name or a pigeon number for example.

Here it is >>>

And here is the

2019 results >>>



SEARCH ALL SAHPA RESULTS! 2007, 08, 09, 10, 11, 12, 2013. Search ring number, owner, anything! Click on the Results button at left and then under the racepoints map on that page.