SAHPA NEWS
Vist ANRPB by
clicking on icon at left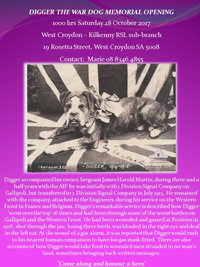 CLICK on picture at left for larger image.

On 28th October, David Thalbourne will release a dozen pigeons at an event to honour the dog "Digger". You will see from the photos and articles that the French Army provided pigeons for a release at a service back in July 2017 at Pozieres. Pictures >>>

The Australian War Animal
Memorial Organisation >>>
EMAIL from DAVID WALKER: "All, For your information and use I attach the Implementation Plan information document and the National Code of Practice for the keeping of Race Pigeons in Australia. Please provide this information to your membership and provide any feedback information to me at your convenience. This document has had a long gestation period, but will provide a set of guidelines for race clubs in Australia. The implementation plan is an important document - it sets out the basis and need for a national code, so please provide it with the national code of practice to members. Thanks and regards. David Walker. ANRPB Secretary / Treasurer. Here is the explanation document: >>>> and here is the link to the Code of Practice as it currently is on the ANRPB website >>>
Following the death of Ralph Rymer in August 2017, his stock/race birds are to be sold.
Pedigree information on all sale birds can be located here >>>>>>>
Please contact David Walker at 08 8391 6882 or 0450 107 545 to discuss any purchase.
The intention is to offer the birds for a two week period, after which, the high bid/offer for each bird will be accepted. Intending purchasers will be advised if their bid is the high bid, or advised if their bid has been bettered. A minimum price of $50 each will apply.
Thanks and regards, David Walker for the Rymer Family.
PIGEON MEDIA audio of Bronte Andrewartha interview
on Alice Springs >>>
BOB WEAR - his story >>>
BOB WEAR - member of the North Suburban Invitation Homing Pigeon Club is selling his birds. "Over the years I paid thousands of dollars for these birds. Therefore to see them rehomed I am selling them for $10 each."
If you need some good new blood these may do the trick. I have catalogues and pedigrees for all these birds. I have known Bob for many years and he is a true gentleman of the sport. He has been placed many times in the strong North Suburban Club. These birds are genuine hard day birds and are well worth the visit. Tony Perkins General Secretary of the SAHPA.
Home most days for an appointment. Please contact my son Scott on 0419 211 102 -
6 Dorothy Ave Northfield. Catalogue >>>
THE SAHPA YEAR BOOK is now available for viewing on this website. Go to the button at left "Year Book."
SIRES PRODUCE LIST UPDATED >>>
RACE PROGRAM 2018 >>>>
HORSHAM HOMING CLUB 100 year Centenary dinner with guest speaker Bill Lawry. Saturday November 25, 2017. More >>>
SAHPA Ring Order Form 2017 >>>
Ring Transfer Form. There is now a ring transfer form located in the list on the "Officials and Rules" page at left. Form is "Ring Transfer (manual)". This form replaces the cards we used to use. More than 10 birds can be listed on the form but payment remains at $1 for every 10 birds. Foreign ring birds are $2 a ring. Club secretaries can print this form out for their club members who do not have a computer themselves. Tony Perkins will also print some out for hand-out at the SAHPA office.
xx


SEARCH ALL SAHPA RESULTS! 2007, 08, 09, 10, 11, 12, 2013. Search ring number, owner, anything! Click on the Results button at left and then under the racepoints map on that page.