SAHPA NEWS
Vist ANRPB by
clicking on icon at left
BIRD OF THE YEAR:
Anyone who wishes to submit a nomination for Bird of the Year, please send to the General Secretary asap by letter 5 Peel Street Gawler West 5118 or email
sahpa.secretary@gmail.com.au
,
The best nomination thus far is from Ross Chapman SA16 08657 BBH 1st SAHPA MT Gambier. 3rd SAHPA Mt Gambier 5 bird 8th SAHPA Mt Gambier
. Entries close Friday 3rd Nov 2017. Click on the picture at left for larger image.

GREG REHN
is selling approx. 40 birds including his Association winner due to his lifestyle move to Tasmania. All prices are negotiable and priced from $25 up. The loft has not had the rota virus. Bloodlines are Dimella De-weerts and Hamilton James Bond also Houbens. Please phone Greg on
0417 847 429.
Pedigrees >>> Assoc winner >>> Picture 2 >>> Picture 3 >>> Picture 4 >>>
Mt Willoughby
is the last race to be able to claim the $1,000 prize for the highest top 30 placed bird purchased at the Barossa Valley RPC club sale last December. At this stage no one has contacted the club re a top 30 placing. If a result is not claimed at the end of this years programme the $1,000 prize will jackpot and added to the prizemoney generated at this years squeaker sale. Contact R. Somerville 0457 446 778.
THE MEMBERS
of the Barossa Valley Racing Pigeon Club Inc extend an invitation to attend this years fundraising Squeaker Sale on
SUNDAY 10TH DECEMBER LYNDOCH OVAL
(TENNIS CLUBROOMS). Put this date in your diary as a day not to be missed. More details will be made available once this season is completed. R. SOMERVILLE 85246094 , 0457 446 778 thanks and regards Russell
.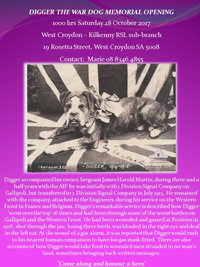 CLICK on picture at left for larger image.

On 28th October, David Thalbourne will release a dozen pigeons at an event to honour the dog "Digger". You will see from the photos and articles that the French Army provided pigeons for a release at a service back in July 2017 at Pozieres. Pictures >>>

The Australian War Animal
Memorial Organisation >>>
EMAIL from DAVID WALKER: "All, For your information and use I attach the Implementation Plan information document and the National Code of Practice for the keeping of Race Pigeons in Australia. Please provide this information to your membership and provide any feedback information to me at your convenience. This document has had a long gestation period, but will provide a set of guidelines for race clubs in Australia. The implementation plan is an important document - it sets out the basis and need for a national code, so please provide it with the national code of practice to members. Thanks and regards. David Walker. ANRPB Secretary / Treasurer. Here is the explanation document: >>>> and here is the link to the Code of Practice as it currently is on the ANRPB website >>>
PIGEON MEDIA audio of Bronte Andrewartha interview
on Alice Springs >>>
BOB WEAR - his story >>>
THE SAHPA YEAR BOOK is now available for viewing on this website. Go to the button at left "Year Book."
RACE PROGRAM 2018 >>>>
HORSHAM HOMING CLUB 100 year Centenary dinner with guest speaker Bill Lawry. Saturday November 25, 2017. More >>>
xx


SEARCH ALL SAHPA RESULTS! 2007, 08, 09, 10, 11, 12, 2013. Search ring number, owner, anything! Click on the Results button at left and then under the racepoints map on that page.