<!iframe width="245" height="138" src="https://www.youtube.com/embed/0Bm-POIhvg0" frameborder="0" allow="autoplay; encrypted-media" allowfullscreen> <!iframe width="245" height="138" src="https://www.youtube.com/embed/Jl_pZA_qS6o" frameborder="0" allow="autoplay; encrypted-media" allowfullscreen> <!iframe width="245" height="138" src="https://www.youtube.com/embed/H3j6T-zUdSE" frameborder="2" allow="autoplay; encrypted-media" allowfullscreen> <!a href="http://www.gc50000.com/" target="_blank"> <!img height="150" src="images/gold coast.jpg" style="margin: 12px 6px; border-style: solid; border-width: 2px;" width="245" />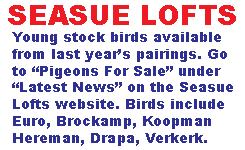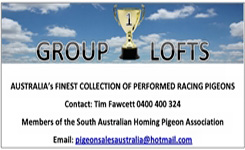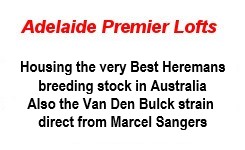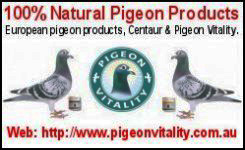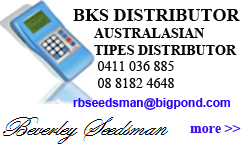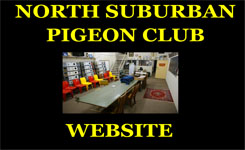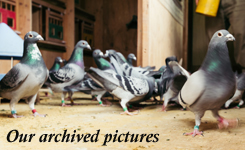 SA PRIVATE
PIGEON SALES >>>
RESULTS MAP
for Stirling North 12th June >>>
DUE TO LACK OF SUPPORT
Richard Yeoell's north-east tossing will not continue.
Ford F 350
truck tossing Tuesday 15th June Port Wakefield to Lochiel and further if members require.
Mazda BT50 tossing Tuesday 15th June going to Cactus farm and Port Wakefield. Nickolas Albanos route is unchanged and pick up points are the same.
Up to 6 mm rain is forecast North to North West winds.
Reminder Ford F350 truck only tossing North line every Sunday and Tuesday until end of season.
Pick up points until end of season: SAHPA Hall leave 9 am - Old Engels Nursery 9:30am - Aldi Smithfield Carpark leaving 10 am - Two Wells turn off Gawler Express 10:20 am. Any questions call me 0422750582. Minimum 10 dollars 25 cents per bird after 40
SOUTHERN FLEURIEU RPC
is holding a club fundraiser and here are the details: You can lease a bird or birds from our members for $15 per bird. There is only one prize for the first bird home which will be the race winner. The prize is $150. The race will be Olary 2 and is open for our young and old birds. Leased birds remain the property of the registered owner. Further information call Ken Moyle on 0417 710 090. Result will be posted on this site.
SDC RESULT >>>
Please note these results are also available via the Quick Link button above. SDC POINTS TO DATE >>>

RING RACE: Prize money breakdown >>>

RING RACE: The Treasurer has gone back over 1991 pools results compared to our current Ring Race. Here are his results >>>


REMINDER from The Treasurer:
The BSB is 065 518 and account 10038108. Please include a clear reference for your payment. The Treasurer's email is sahpa.treasurer2015@gmail.com


NEW - Search this file for ALL RESULTS for 2020. Simply use "control f" to get the search box and then enter what you want to search for. Search for your name or a pigeon number for example.

Here it is >>>

And here is the

2019 results >>>




SEARCH ALL SAHPA RESULTS! 2007, 08, 09, 10, 11, 12, 2013. Search ring number, owner, anything! Click on the Results button at left and then under the racepoints map on that page.