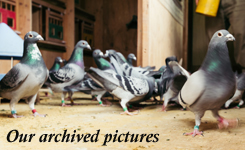 <!iframe width="245" height="138" src="https://www.youtube.com/embed/0Bm-POIhvg0" frameborder="0" allow="autoplay; encrypted-media" allowfullscreen> <!iframe width="245" height="138" src="https://www.youtube.com/embed/Jl_pZA_qS6o" frameborder="0" allow="autoplay; encrypted-media" allowfullscreen> <!iframe width="245" height="138" src="https://www.youtube.com/embed/H3j6T-zUdSE" frameborder="2" allow="autoplay; encrypted-media" allowfullscreen> <!a href="http://www.gc50000.com/" target="_blank"> <!img height="150" src="images/gold coast.jpg" style="margin: 12px 6px; border-style: solid; border-width: 2px;" width="245" />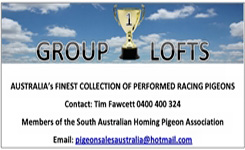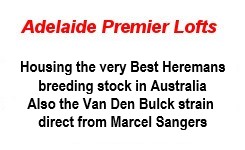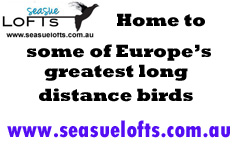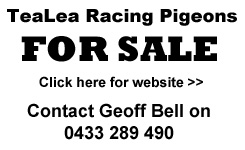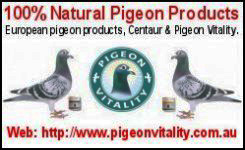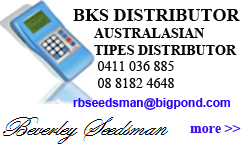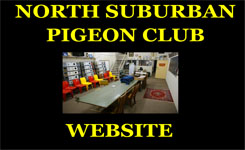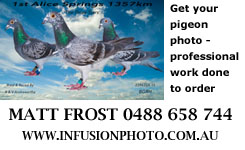 SAHPA NEWS

Visit ANRPB by
clicking on icon at left
FREE
to list any pigeon or loft related item
NEW ITEMS LISTED - training unit and ets system

- SA Private Pigeon Sales >>>


FOR ALL COUNTRY AND INTERSTATE flyers -
if you would like to purchase the SAHPA 2019 Year Book please email me at
agar.alan@gmail.com
to get your name on the list. We have a limited number of copies available. Please include your postal address. Payment is strictly by bank transfer. No cheques or cash. More information regarding payment etc once all our local members have their copies. Price: $10 (includes postage).
PROPOSED Rule
changes to be voted on at
SAHPA AGM >>>
GAVIN HARRIS
resignation letter >>>
GAVIN HARRIS
has supplied examples of the "wind speed calculator" -
Terang >>>
and also
Coober Pedy >>>

CLUB REBATE
Information: >>>


2020 PROGRAM RACE Program >>>
SIRES PRODUCE:
Click on the "Sires" tab at left for latest information. Prepaid nominations close 31st March 2020.
CALENDAR OF EVENTS >>>
SYDNEY $45K GOLD RING RACE
2020 >>>
NEW

-
This file contains all the Assoc. results for 2019.
Search for your results >>>
(use control / f to get the "find" box)
. Search on a name or a ring number - just the number i.e. 09090 is enough.
A BRIEF INTRODUCTION
for interested people and new flyers >>>
SEARCH THE SAHPA >>>

WELLINGTON ONE LOFT RACE. Visit website >>>

ARE YOU A NEW FLYER?
Find a club in your area first >>>
Country clubs included.


SEARCH ALL SAHPA RESULTS! 2007, 08, 09, 10, 11, 12, 2013. Search ring number, owner, anything! Click on the Results button at left and then under the racepoints map on that page.