SAHPA NEWS

Visit ANRPB by
clicking on icon at left
ANRPB 19 Feb 2018 Latest Release >>> Dr. Colin Walker summary >>>

NEW PIGEONS FOR SALE. Alice bloodlines SA Private Pigeon Sales >>> Now mobile enabled.

THE AUSTRALIAN PIGEON CONVENTION
promotional video >>>


REGISTRATION for Jack Vanderlinden's
auction site now open. See Jack's advert this page. Auction will take place later this year.

VIDEO of visit to Stephen Kearsey's
loft in Melbourne. See videos lower on this page.
SEARCH THE SAHPA >>>

GREG HAMILTON
complete stock bird sale. Sunday, June 3, 2018. At the SAHPA Hall, Gepps Cross. Details to follow.


BAROSSA SALE
and
BROKEN HILL
Presentation
PICTURES >>>

MID-WEEK RACING 2018
more >>>


TO CLUBS
in the Southern, Northern and Eastern Electorates please inform your members that the SAHPA is seeking nominations for the Committee of Management for such electorates. Nominations for election to the Committee of Management must be in writing and signed by the nominee and two other members of the said electorate. Nominations must be received by myself the General Secretary by the 23rd January 2018, up to two calendar months prior to the date of the Annual General Meeting which will be held on Friday 23rd March, 2018. The Committee members that must retire at the AGM as their three year term has expired are Paul Springett (Southern) Phil Squire (Northern) and Tim Fawcett (Eastern). If there is more than one nominee in the same electorate as General Secretary I will send out ballot forms with the two or more Nominees on them to all members in that electorate. These forms must be returned by the 9th of March which follows the constitutional requirement of 14 clear days before the AGM. All retiring Members of the Committee of Management shall, following retirement from office, be eligible for re-election, regardless of how many terms of three years in office, the Member has held. Failing to receive any nominations in a particular electorate the COM will appoint a suitable member to that electorate.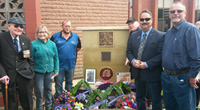 The picture at left
was taken at the Croydon / Kilkenny RSL and left to right: is Jack Hicks (Woodville - West Torrens), Sofia Thalbourne (SAHPA Ring Secretary), Perry Burton (Para Hills), David Thalbourne (SAHPA), Nigel Allsopp (Australian Anzac of the Year) and Greg Kakoschke (ANPR)
. Click on picture for larger image. And more >>>

CONGRATULATIONS
to Jim Marafioti on winning the SAHPA 2017 points competition and also P. Roumeliotis
. Assoc points top 30 >>> Long distance >>>

WELLINGTON ONE LOFT RACE. Visit website >>>

BASIC COLOR BREEDING CHART >>>

ARE YOU A NEW FLYER?
Find a club in your area first >>>
Country clubs included.

SAHPA 2017 JUNIORS:
Here are the full results >>>


SEXING
by color from the archives >>>
and more >>>

BREEDING
from old copy of "Pigeon Fancier" >>>
HALF BRO/SISTER >>>
PIGEON MEDIA audio of Bronte Andrewartha interview
on Alice Springs >>>
xx


SEARCH ALL SAHPA RESULTS! 2007, 08, 09, 10, 11, 12, 2013. Search ring number, owner, anything! Click on the Results button at left and then under the racepoints map on that page.