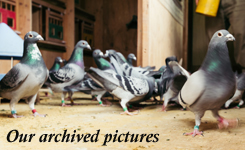 <!iframe width="245" height="138" src="https://www.youtube.com/embed/0Bm-POIhvg0" frameborder="0" allow="autoplay; encrypted-media" allowfullscreen> <!iframe width="245" height="138" src="https://www.youtube.com/embed/Jl_pZA_qS6o" frameborder="0" allow="autoplay; encrypted-media" allowfullscreen> <!iframe width="245" height="138" src="https://www.youtube.com/embed/H3j6T-zUdSE" frameborder="2" allow="autoplay; encrypted-media" allowfullscreen> <!a href="http://www.gc50000.com/" target="_blank"> <!img height="150" src="images/gold coast.jpg" style="margin: 12px 6px; border-style: solid; border-width: 2px;" width="245" />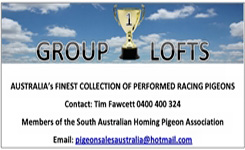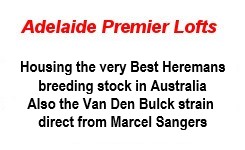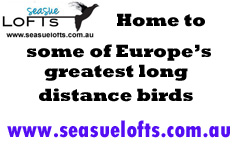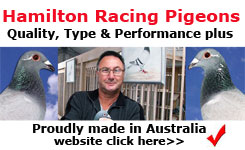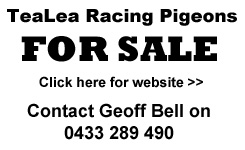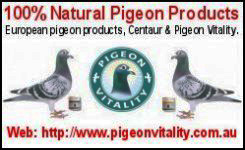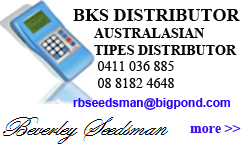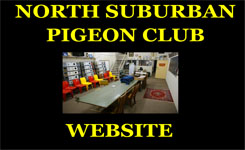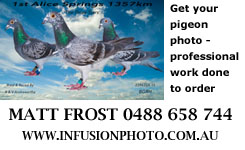 SAHPA NEWS

Visit ANRPB by
clicking on icon at left
FREE
to list any pigeon or loft related item.
-
SA Private Pigeon Sales >>>
NEW

-
This file contains all the Assoc. results for 2019.
Search for your results >>>
(use control / f to get the "find" box)
. Search on a name or a ring number - just the number i.e. 09090 is enough.

SAHPA Pigeon Awards 2019

SAHPA Bird of the Year: is SA 18 08404 BCPH raced by Snyders & Buxton 3rd SAHPA Lyndhurst YBC and 8th SAHPA Coober Pedy 1.
The Ace Pigeon Award category Young Bird.
1st SA 18 14855 BCPH N Stojakovic
The Ace Pigeon Award category Old Bird
1st SA 17 07946 BBPH J Marafiote
2nd SA 17 02956 BCH G & L Harris
To qualify for the Ace Series the bird must have placed 3 times in the top 5% of the field in SAHPA races from the Derby onwards. General Secretary
.

The Northern Group (Central Districts and Eliz.)
are running a "ring race" this year. We have 110 rings for sale at $10 each and on the proviso all rings are sold there is a $500 prize up for grabs. Best position any assoc. race. Not restricted to top 30. Cost is $10 a ring.
Contact us on 0434 917 230 or 0402 567 800 to arrange a purchase. The proceeds are to be used to keep the club afloat and help deal with rent on our clubroom.

SAHPA TOP 30 FLYERS >>>>

PRE-PAID OPTIONS
for consideration >>>
YEAR BOOK
- If you won an SAHPA race this year or had a high placing(s) that would be of interest and you would like your story included please contact me on 0402 567 800.
A BRIEF INTRODUCTION
for interested people and new flyers >>>

RACE CARD for 2019 >>>
SEARCH THE SAHPA >>>

WELLINGTON ONE LOFT RACE. Visit website >>>

ARE YOU A NEW FLYER?
Find a club in your area first >>>
Country clubs included.


SEARCH ALL SAHPA RESULTS! 2007, 08, 09, 10, 11, 12, 2013. Search ring number, owner, anything! Click on the Results button at left and then under the racepoints map on that page.